Have you ever wondered what the top earners business execution secrets include? Well I learned just that from the attraction marketing queen herself, Diane Hochman. As a serious entrepreneur with goals to achieve the number one habit we all must master is business execution. [If you'd rather listen to the business execution secrets just play the video at the end of this post.]
ATTRACTION MARKETING BUNDLE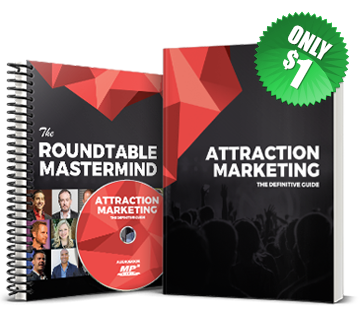 Get a 68-page "all-inclusive" e-book, 82-min mp3 audiobook, and a roundtable mastermind to help you attract buyers for YOUR business.
Does the strategy matter with business execution?
Even as marketers we are inundated with new strategies, systems, and business models that promise to take our business to the next level. The truth is that the strategy or system being marketed does work. It worked for the person who created it and perhaps the person promoting it. But the question is will it work for you? Does it align with your strengths? Is it something you don't mind doing, even on those days you don't necessarily want to do it?
Decide on the strategy that you can get excited about and then execute. You must commit to working your business execution strategies.
What are the business execution secrets?
Business Execution Secret #1
The first secret is zero level marketing. Basically this means what marketing activities will you do each day. These primarily are lead generation or promotion activities that you will not rest until you have completed them. The only way to move your business along and to reach your goals is to work at it. Incorporating this concept into your business guarantees you won't let a day go pass without working specific activities in your business.
For full effectiveness, these activities should also be considered money-making activities. For example, generating at least five leads (through whatever strategy you have chosen), extending at least five invitations to your presentation, etc.
Business Execution Secret #2
The second secret is working on your business in the nooks and crannies of your day. Take those times you are waiting in line, sitting on the couch, or even part of your lunch break and make them productive for your business. What content can you start outlining? Who can you follow-up with? What emails or posts can you draft? Taking advantage of these small pockets of time can add up over the course of a week. I've also seen it reduce anxiety around finding big chunks of time to work on business activities. It can also keep you from having to separate yourself from your loved ones to get things done in your business.
Business Execution Secret #3
The third secret is promotion without emotion. You are running a business and what you have to offer is a good fit for some and not for others. It's always the ultimate goal to get your product, service, or opportunity in front of people who want it. You don't want to target everybody and be a spammer. However, once you have determined who your audience is you serve them by providing value and promoting your service. In order to do this well you are not concerned about every little reaction to your offer. If someone doesn't opt-in no big deal because you are working your zero level marketing activities and consistently bringing in new leads. It's OK if someone opts out of your email list because you only want people that will engage with you, interested in your service, and will make good customers or partners.
Are you incorporating these secrets in your business? What are your zero level marketing activities?
If you are not sure what those zero level marketing activities are then grab the Definitive Guide to Attraction Marketing. It outlines the daily activities every entrepreneur needs to do to grow their business online.
ATTRACTION MARKETING BUNDLE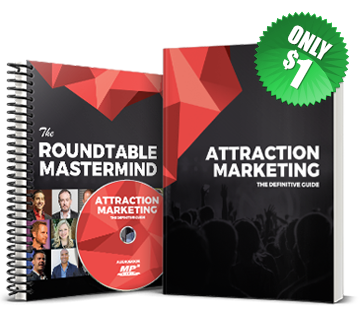 Get a 68-page "all-inclusive" e-book, 82-min mp3 audiobook, and a roundtable mastermind to help you attract buyers for YOUR business.