Business productivity may not sound like much fun but its necessary for those who don't want to spend years struggling in network marketing. Even after spending 18 years struggling, Lisa Torres herself would tell you it doesn't have to be that way. What's incredible is that she didn't give up. She found her way to massive success, and among the many things she credits for this turn around is the Pomodoro Technique, a business productivity tool.
It's a smart move to take advice from people who have really struggled in the industry to heart (in addition to the seemingly overnight success stories). Mainly because they are likely to have tried everything and had to do major internal work to overcome self-doubt and hang-ups. It is often taken for granted how important working on our mindset is to successfully shift from an employee to an entrepreneur.
Today, there are so many revolutionary tools and technology at our disposal that weren't available 18 years ago. Network marketing embraces, more now than ever, a host of personality types and skills. However, a lot of the struggle comes from not knowing the daily tasks that need to take place and then procrastinating on even starting those tasks. Once you get clarity on this you are well on your way to being a network marketing leader.
Increase Business Productivity in 25 Minute Increments
We don't have to struggle as much as we do, falling victim to procrastination. Instead of burning yourself out trying to do 50 things all at once; pump the breaks, carve the tasks into bite size pieces, and attack them bit by bit. A great tool to add to your arsenal is the Pomodoro Technique. This productivity method has two parts, each with 6 steps. You can get a few quick wins under your belt by starting with Part 1 outlined in this blog post.
Embrace Business Productivity, Knock-out Procrastination
In order to grow your network marketing business you must have a plan. You need to have and complete daily activities that move your closer to your goals. The following process will help you check those daily tasks off your list. As you allow yourself to focus on these tasks uninterrupted, you'll grow in confidence, defeat overwhelm, and begin to see your labor bear fruit.
Work the Pomodoro (Timer) Technique in the order below.
Step 1. Choose a task you'd like to get done – Something big, something small, or something you've been putting off. It doesn't matter, what matters is that it's something that deserves your full, undivided attention.
Step 2. Set the Pomodoro (or the timer). You can use your watch, phone, computer, whatever you have access to that can buzz after 25 minutes. Make an oath to yourself to spend 25 minutes on this task and to not interrupt yourself.
Step 3. Work on the task until the Pomodoro (timer) buzzes. Immerse yourself in the task for the 25 minutes. If you suddenly realize you have something else you need to do, write the task down on a sheet of paper. After your Pomodoro session you'll want to find a way to eliminate these distractions in the future i.e. turn your phone off so it doesn't ring, let the dogs out so they don't barking, etc.
Step 4. When the Pomodoro rings, put a check mark on your tracker (request tracking sheets here) – Congratulations! You've spent an entire, interruption-less Pomodoro (25 minutes) on a task. Its amazing what you can get accomplished in a relatively short period of time.
Step 5. Take a short break (5 min) and mark it on your tracker. During this time you can breathe, meditate, grab a cup of coffee, go for a short walk, or do something else relaxing (i.e., not work-related). Our brains need breaks.
Step 6. Every four Pomodoro sessions, take a longer break and mark it on your tracker – Once you've completed four Pomodoros, you can take a longer break. 20 minutes is good. Or 30. Your brain will use this time to assimilate new information and rest before the next round of Pomodoros.
This is the short and sweet of the method. What's great about it is that you can do this even when you don't have all day to devote to tasks. For many network marketers and entrepreneurs working a full-time job as well as building their business, running a household, etc. finding long stretches of time is incredibly difficult. Tackling tasks in uninterrupted (this is the key word) 25 minute increments is a bit more realistic. You'll have to wake up 25 minutes earlier, carve out 25 minutes of your lunch, and/or go to bed 25 minutes later to make real traction on your to-do list for the day. The pace is up to you and how long you are willing to wait to see results in your business. Keep tackling your top priority assignments in 25 minute increments until complete.
Increasing Business Productivity Starts with a Plan
Let's take action today!
Write down your top 3 tasks that must be completed today. Start working the most important to least importance with steps 1 – 6 above. You may not finish them all in a day but keep working the technique until its done.
Having a plan for your day is super important to being able to start the Pomodoro Technique. If you are just getting yourself organized and finding out what your daily method of operation looks like for you, start off my planning your day the night before.
Once this daily planning is no longer foreign to you and you are seeing the benefits of this productivity method, you can step up to planning your weeks on Sunday, or even planning your months. It's amazing how getting organized and breaking your day and tasks down into bite size pieces can quell the overwhelm many feel when starting out.
Have you tried this method before? How did it work for you? What methods do you use to keep you on track? For more productivity secrets check out this free video from a top network marketer and get his 23 productivity secrets.
THE TOP EARNER FRAMEWORK?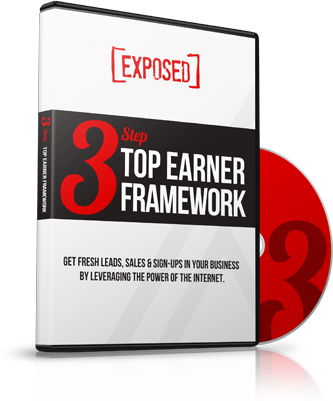 FINALLY Unlock the 3-Step Framework and Learn How to Get Fresh Leads, Sales & Sign-Ups in YOUR Business Leveraging the Power of the Internet.