It's common knowledge that the life blood to network marketing success is prospecting and recruiting. Unfortunately, the typical way of prospecting (i.e. searching) and recruiting (i.e. enrolling) can look like something out of a horror movie. If done improperly people can walk away from the situation feeling used, wary, or worse of all the S-word…scammed.
Network marketing success must synonymous with integrity, good business practices, and service. Therefore, this blog post walks through 3 ways network marketers' sabotage their prospecting and recruiting efforts and what to do to avoid them.
Network Marketing Success does not mean Prospecting Any and Everybody
You might have heard that network marketing success and growing your team is a numbers game. I'm not convinced that is true. Looking at your recruitment activities this way can feel like you are rowing against the current. You'll find that network marketers have sustained success, and a more enjoyable experience, with a more thought out targeting strategy. This means getting in front of people who already are entrepreneurs. Sharing your opportunity with people already looking for multiple streams of income or work from home options.
For this approach you'll need to expand your reach beyond your family and friends. While this may initially sound daunting it is possible. The main methods that the top-earners use to build their audience (followers on social media, an email list built with lead magnets, etc.) are attraction marketing, paid advertising, or a combination of both.
 Attraction Marketing
First, becoming familiar with attraction marketing is super important for anyone looking to build their team with online technology. Attraction Marketing basically is a system of behaviors or processes used to attract prospects and customers to you by adding value, providing solutions, serving your target market, and creating content that addresses your target market's top challenges. Even if you are new you can give value. Consequently, there is a simple equation to deliver value…learn + implement + share = value.
Targeted Advertising
Next, the other major method the top-earners use online is paid advertising to target prospects and get them into a Facebook group, onto their email list, or into their sales funnel. With the right targeting (who you are placing your ad in front of), the right message/copywriting (illustrating the problem, pain, and solution with words), and the right offer (the free lead magnet that starts to solve their problem); network marketers then have a steady stream of prospects coming to them.
Finally, these two methods focuses a network marketers precious time, energy, and recruiting efforts on those people who better understand the industry, believe in the industry, and want what is possible through this industry.
Network Marketing Success is not Dependent on Your Unique Personality or Specialized Credentials
One of the reasons that people turn to to network marketing is that there is an inherent ability for anyone, regardless of background, to climb the ranks and build a business that creates real financial freedom. One of the major requirements to do this and achieve network marketing success is duplication. What one person does to acquire customers and recruit team members is duplicable for the people they just recruited. Therefore, top-earners agree that the most successful leaders in MLM teach a duplicable system to their downline. They have found that its more effective when network marketers take their prospects through a recruitment process that they themselves can replicate.
Conversely,  if a business builder is leaning on their influence, credentials, or charismatic personality to seal the deal, this could hinder long-term success. Prospects won't be able to see themselves taking on that role and this could deter some great leaders. Ultimately, stunting the builder's network marketing success. The key is to stick to the recruitment system your team, mentor, or coach has established. A process that anyone could plug themselves into.
Network Marketing Success does not Expire in 30 Days
Network marketing success requires care and time. Many MLM company's offer contest and bonuses for customer acquisition and recruitment. While great incentives it can set the wrong tone for a new network marketer. These contests are advertised something like this "get X number of customers and /or recruits in your first 30 days." These are great goals to strive toward. But it almost negates the need to figure out the right way to approach people. It also perpetuates the flawed thinking that if that company goal isn't achieved the business model doesn't work.
In addition, these short-term goals also apply pressure that gives less experienced network marketers permission to engage in sloppy or spammy sales tactics or recruiting people without full disclosure. The ultimate goal of successful network marketers is residual income. Not fast money. Network marketing is not a get rich quick scheme. It requires real business skills, hard work, consistency, and a desire to lift others up that are one step behind you. You can't do all that overnight, let alone thirty days.
Finally, prospecting and recruiting, if done the wrong way (prospecting every body you come across, depending on your charming personality, and rushing the process to hit a 30 day goal), will set you further back in your business and financial goals than you think. Quality over quantity applies to recruiting for network marketing success.
Get FREE instant access to this top-earner's sponsoring secrets here. Grow your targeted audience and get more fans and followers with this tutorial.
RECRUIT MORE - EARN MORE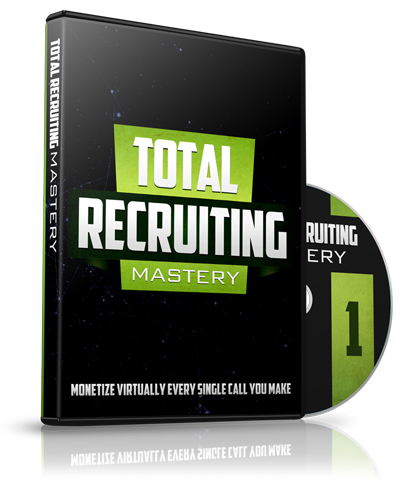 FREE Training: How a 7-Figure Earner made his first $100,019.32 with his Online Business - Prospecting Secrets Revealed!